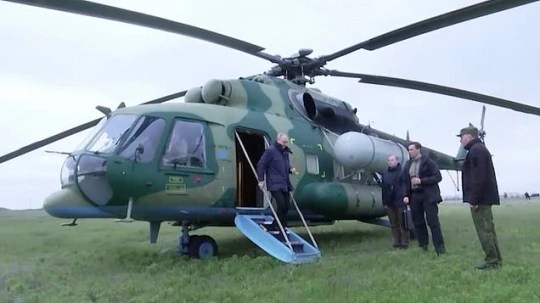 Putin Limps Again On Visit To Russian Military Headquarters In Ukraine
Vladimir Putin has paid another surprise visit to Ukraine this time to catch up with one of his top army chiefs, according to a video released by the Kremlin.
The Russian president purportedly flew into Kherson, one of four regions illegally annexed last year, by helicopter to attend a military command meeting.
He was then whisked to a national guard base in Luhansk, another part of Ukraine annexed back in 2014.
Dressed in a heavy blue jacket, Putin, 70, appeared to be walking stiffly after stepping out of an SUV before being greeted by his top brass.
The Kremlin did not say when the supposedly spontaneous visits took place.
If genuine, they would be Putin's first to the regions since he declared them part of Russia.
The trip marked his second purported visit to Russian-occupied areas of Ukraine in as many months.