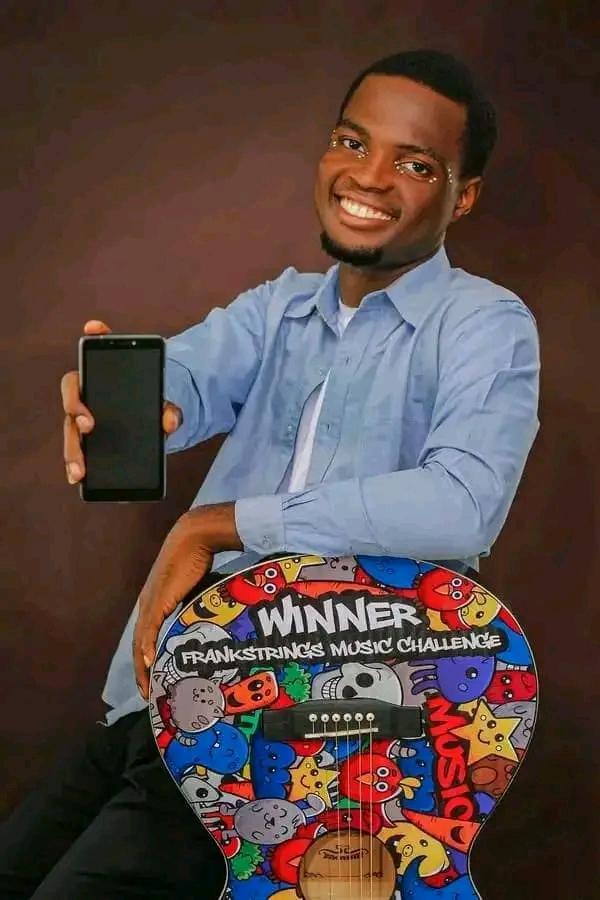 Lagos resident, Stephen Anuoluwapo who's currently a student from the third most sought-after 2023 UTME Institution, Lagos State University LASU, Ojo, Stephen Anuoluwapo recently emerged as the winner of Franks String's online music challenge 6th edition, gifted an android phone, acoustic guitar.
To uplift others through music and more, the convener, Frank Strings, a music coach, trainer, and performer had a total of 62 participants from all states in Nigeria and London in this year's contest.
Stephen revealed that he got to know about the competition via an advert online around 2021 and decided to opt for it in 2022 but had to step down for his good friend who's also in the same contest, there he waited for the 2023 edition that he won.
Stephen while sharing memories recalled that growing up was fun with his 3 siblings and parents. He continued to say that his family was known to be the music type who loved music which marks out one unique thing unique about his family, "Daddy and Mummy love listening to music especially Don Moen, as their children we weren't left out too"- he added
Stephen, the Ogun-born from Ijebu Ode who believed in himself and was intentional about the task ahead being his first competition disclosed that at some point in the competition, he didn't meet up with expectations, taught he'll be evicted and along the line hot a chance to redeem himself while thanking God for another opportunity as well as advising folks to learn, believe in their selves regardless of what's on their table, give their best when opportunities sprung up.
Stephen, in another reaction, said he was able to balance academics and the competition not minding what it will cost, but kept striving, "It's just planning,
I plan when to shoot my videos, when to rehearse my songs when to read, when to assign when to go for fellowship; once you can follow plans then it's easy to balance it"- he added
Stephen aspires to be an influencer to others, an inspiration for others.