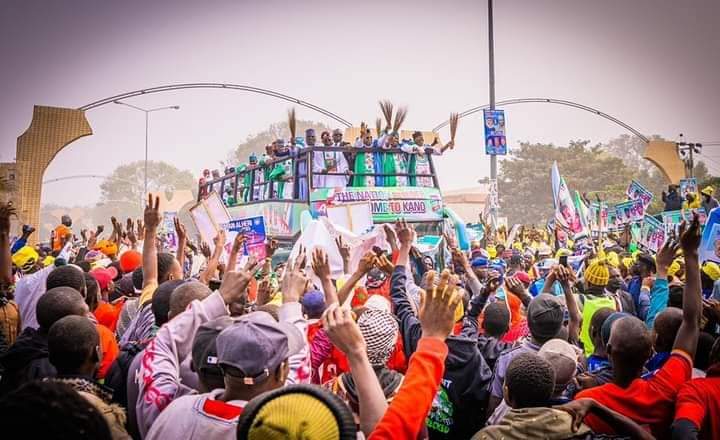 The Coming of the All Progressives Congress (APC) Presidential candidate, Sen. Bola Ahmed Tinubu for the campaign in Kano has boosted the morale of the party, not only in Kano but Nigeria at large.
This was contained in a statement issued to newsmen in Kano on Friday by the Director of the North West Tinubu/Shettima campaign support group, Baffa Babba Dan'Agundi.
Dan'Agundi explained that, the mammoth crowd that came out to support the Tinubu/Shettima and Gawuna/Garo candidacies has demoralized the opposition including the presidential candidate of The New Nigeria Peoples Party (NNPP), Rabiu Musa Kwankwanso.
"This is because right from the era of People's Redemption Party (PRP) coming down to Buhari's era, there has never been a large political gathering like the one witnessed yesterday in Kano"
Although Buhari's time saw a mammoth crowd too occupying both the stadium and its environs but, the Tinubu rally saw people right from Kano state government house roundabout stretching up to the stadium which is about 5km chanting 'Tinubu for Nigeria'" He said.
Dan'agundi added that 5000 football clubs, comprising over 100,000 youths wearing jerseys came out in large numbers and throwing football to the Tinubu caravan as a form of jubilation.
The Director stressed that Ganduje had proven to the world that he still has a strong ground in Kano, "redefining oaths in the inconclusive election."
The statement noted that Dan'agundi had also been identified by all and sundry to be the man behind the match because, he seriously mobilized the football clubs, support groups and women from government house roundabout to the stadium.
The Director is believed to be an excellent mobilizer, it is a wise decision to choose Dan'agundi as Tinubus Director of Northwest support group and by extension, his impact is being felt by other support groups in the Northwest Zone" the statement added.
In their separate remarks, according to the statement, the Secretary of the Presidential Campaign Council, James Falaki; Former Minister, Mr. Obanikoro, as well as Kashim Imam, commended Dan'Agundi for performing greatly in the mobilization process.
Also, a prominent member of the PDP in Kano, Mr Adnan Mukhtar Tudun Wada posted that "I can testify that Dan-agundi is a good mobilizer. Very skillful in the art of mobilisiation. Whatsoever the crowd, this is a wake up call for all of us supporting Waziri to restrategise and work hard at grassroot. The Directorate for Strategic Communication is doing nothing here in the North and other parts of the country.
Tambuwal should do the needful for us and give this people in power sleepless night.
However, analysts believed that the state never witnessed the political gathering in the last eight years if not this one mobilized by Danagundi," the statement said.