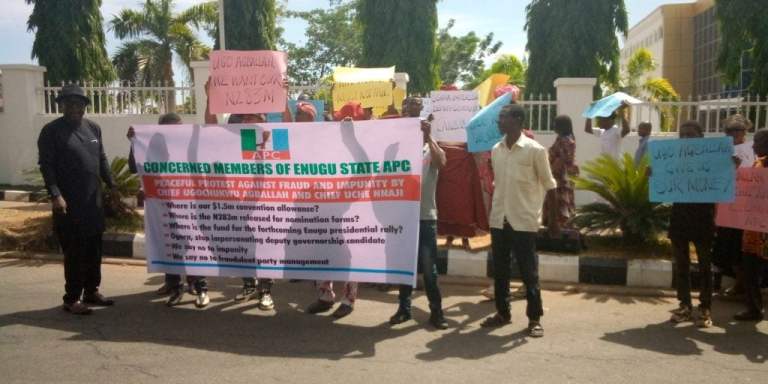 Ahead of the 2023 general elections, the Enugu State Chapter of the All Progressives Congress, APC, has been embroiled in controversy over a N1.3 billion fraud allegation.
The allegation sparked a protest on Monday when aggrieved members in their numbers protested at the national secretariat of APC to seek intervention from national officers.
The aggrieved members fingered the Enugu State chairman of the party, Ugochukwu Agballah and the governorship candidate, Uche Nnaji as those behind the alleged fraud.
Leading the protest, Adolphus Ude and chairman, Concerned Members of Enugu State APC, said they were at the secretariat in Abuja to vent their concerns fearing that the APC as an opposition in Enugu will be threatened if their concerns are not addressed.
Ude who claimed to be the chairman of mainstream Enugu APC said he was the pioneer deputy chairman of the party in Enugu State, and alleged that there had been "impunity, gross misconducts, fraudulent administration, embezzlement of party funds" perpetrated by the state chairman and the governorship candidate."
He added that their hard work to ensure a strong APC in Enugu State helped to field strong characters which in turn helped the party to generate N283 million through sales of nomination and expression of interest forms. He alleged that the fund has been embezzled.
The $1.5 million he claimed had been embezzled was meant for allowances for Enugu State delegates in the 2022 national convention and presidential election. The national secretariat, he stressed, must address the situation before things go awry in Enugu APC.
He also avowed that the APC National Chairman, Senator Abdullahi Adamu who was the former Chairman of the APC Reconciliation Committee, was aware of some ugly developments that brought about the emergence of the new state executive currently in court.
He recalled how some leaders of APC in Enugu State protested to the National Secretariat in August 2022 where they submitted a petition calling for the removal of Ugochukwu Agballah as the state party chairman and appointment of a caretaker chairman to save the state chapter of the party from destruction and disgrace.
Reacting to the allegations, the Director-General of Nwakaibe Uche Nnaji Campaign Organisation, Fidelis Edeh, enjoined journalists to ask the national headquarters of APC to confirm if such funds were released.
"APC should be the one to confirm and not the candidate," he said.
Similarly, Enugu State APC chairman, Agballah, insisted that the claims are untrue, as the party is yet to be mobilised financially by the national leadership.
"We're yet to get any money. The governorship candidate is the person funding the campaigns," he said.