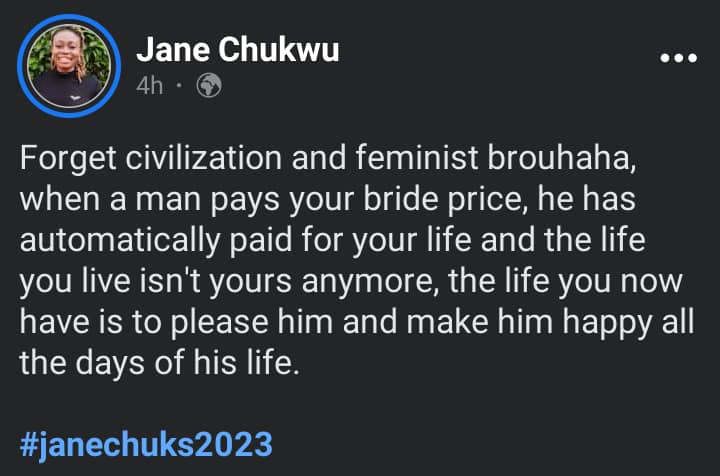 A Nigerian relationship counselor identified as Jane Chukwu has revealed that when a man pays the bride price of his wife, he has automatically paid for her life.
Jane Chukwu, made this known via her Facebook account on Friday, March 10.
She wrote:
"Forget civilization and feminist brouhaha, when a man pays your bride price, he has automatically paid for your life and the life you live isn't yours anymore, the life you now have is to please him and make him happy all the days of his life."

Reactions from comments section below:
Folusho Oginni wrote:
Men that cannot even take care of themselves or provide 2 basic meals per day are jumping high and agreeing to this. What a lord.
It's not even about Feminist. See how we are encouraging slavery in marriage. God forbid my children are motivated by this kind of posts.
Once you are married to the right person, there won't be any struggle, there won't be any contention for who is head or not. Submission and love will flow without issues, respect will be natural. But once a man keeps demanding and wants to rule. Then he has missed it.
Ihezie Loretta wrote:
Jesus paid the ULTIMATE PRICE for the whole field and the lives of men on Earth which validate the legal part of salvation. Another foundation can no man lay except that which is laid which is Christ Jesus. In other words, a single life be it a man or woman CANNOT BE BOUGHT TWICE. bride price does not validate this your assertion. Come to think of it, is the money even enough to compare wat was paid on the girl child Nursery/primary school?
"Just a means of exchange" does not equivalent to one's precious life my dear.
Julia Ehi Anejo wrote:
Godforbid.
I don't agree with this school of thought of yours.
My life is not to please any one because he paid my bride price of how much?
A woman had a life,goal, career, principles before marriage.
Marriage should bring out the best in you and not subject you to pleasing a man all your life.
Jesus gave himself for me completely without conditions.i owe him my life alone.
Not a man.
In marriage it's team work and partnership.
Sharon Inuikim wrote:
Pls ohhh… don't roast her yet, she simply meant that u must be submissive to your husband as a woman……she doesn't mean the commercial buying n selling of products ohhh maka ndi God forbid…..
As a woman, if you aren't ready to be under the tutorship, rulership and authority of a man, abeg u have no business with marriage.
Collins Okechukwu wrote:
My friend told me recently that the list his friend father in-law gave him was "please make sure you take care of my daughter, never make her cry for one day" mehn, he said he was so astonished when his friend told him this. Lol, u can imagine.
"If this is all you can do, please do it with your full chest" – Nigerian lady advises couples as she shares photos from her court wedding that costs N30k.