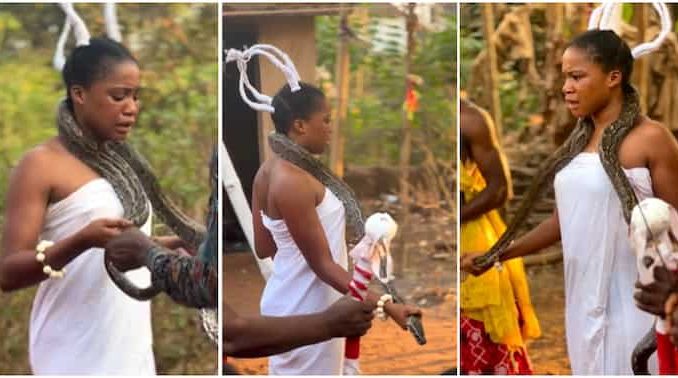 A video clip of young, fast-rising Nollywood actress, Mercy Kenneth, has gone viral online. The talented teenage actor, in the viral video, was seen holding a live serpent as part of a role she played in a new film.
The young film star, who looked terrified of the snake at some point in the video, showed uncanny bravery in the face of her fears as the serpent was placed around her neck and had to hold it.
In the clip, Mercy walked with the snake around her neck and delivered a mystical scene.
Watch the viral clip of Mercy Kenneth carrying a snake around her neck in a movie.
See How netizens reacted to the trending video of Mercy Kenneth carrying a snake around her neck
@adaeze.onuigbo;
" Actor, please don't cry."
@ayinke_adelewa;
"You try oooo."
d@ong3l_;
"With all due respect, won't all this having negative impart."
@natriciawhite;
"I don't care how much they are paying me to do a movie scene with a serpent around my neck dat offer will be a no no 4 me.. I hate snakes. Tru money!"
@ivybeautyskincare_;
"Awwnn my baby I feel your hidden fears ❤️❤️❤️ my brave gurl."
@winnielugaliah;
"Acting is not for faint hearted OOO ogini."
@divicree;
"Pls don't hurt the Snake for me biko."
@uchescouc;
"Tufakwa because of money, even if its rubber snake I can't do this rubbish, that's why many of you guys are possessed."