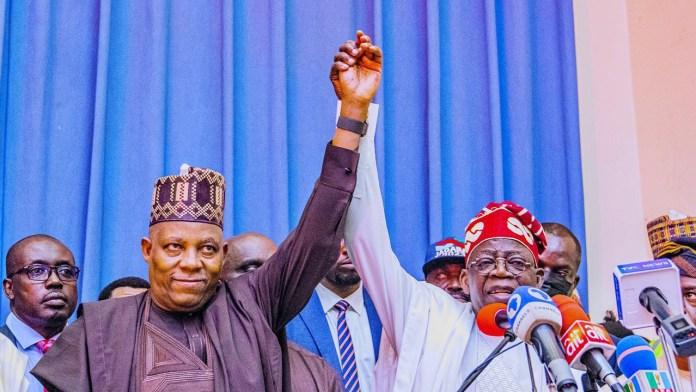 The vice presidential candidate of the All Progressives Congress, APC, Kashim Shettima, has said that his principal, Bola Tinubu, is physically and mentally fit to become President.
Mr Shettima stated this on Sunday night during a live Facebook discussion programme, Fashin Baki, anchored by Bulama Bukarti, Nasir Zango, Abba Hikima and Jaafar Jaafar.
There have been speculations and concern over the health condition of the APC presidential candidate, with some people saying he is unfit to be president.
But Mr Shettima said Mr Tinubu was healthier than him as he neither had diabetes nor hypertension.
"Let me tell you clearly that Asiwaju Bola Ahmed Tinubu is hale and hearty. Politics aside, he is physically and mentally fit to be Nigerian president.
"Asiwaju Bola Ahmed Tinubu is even healthier than me as I have diabetes and hypertension, which he has none. Even the early Parkinson's disease people talked about is just lack of sleep. Once he gets enough sleep, he will be asymptomatic.
"Leadership is not like an unskilled labour of carrying bags of cement. It's more of a mental work than physical. Former Presidents Theodore Roosevelt, Abdelaziz Bouteflika and Daniel arap Moi of America, Algeria and Kenya respectively led their countries through economic prosperity while on wheelchairs," Mr Shettima explained.
The former Borno State governor also said the northern region will not be slidened from developmental projects of the administration, arguing that the presidential candidate of the party had always been a friend of the region.
He recalled how Mr Tinubu gave two northern politicians, Atiku Abubakar and Nuhu Ribadu, the ticket of the defunct Action Congress of Nigeria, ACN, in 2007 and 2011.
He added that Mr Tinubu was also instrumental to the emergence of Muhammadu Buhari as the winner of the APC primaries in 2014 and the party in the 2015 general election.
"I don't see any reason why the northern region would be sidelined, especially when you look at the antecedents of Bola Ahmed Tinubu. He has been a friend of the north since the time of Shehu Musa Yar'Adua.
"In 2007, when Atiku was humiliated and chased out of the PDP, Tinubu accommodated him and gave him the presidential ticket of the ACN.
"Four years later, he gave Malam Nuhu Ribadu, a northern Muslim and our brother, the presidential ticket to contest.
"But for Bola Tinubu's support, Muhammadu Buhari wouldn't have won the APC primaries in 2014. His support saved the day.
"The 2.9 million votes he used to defeat President Goodluck Jonathan were from the south-west, and he also supported us in 2019," Mr Shettima added.