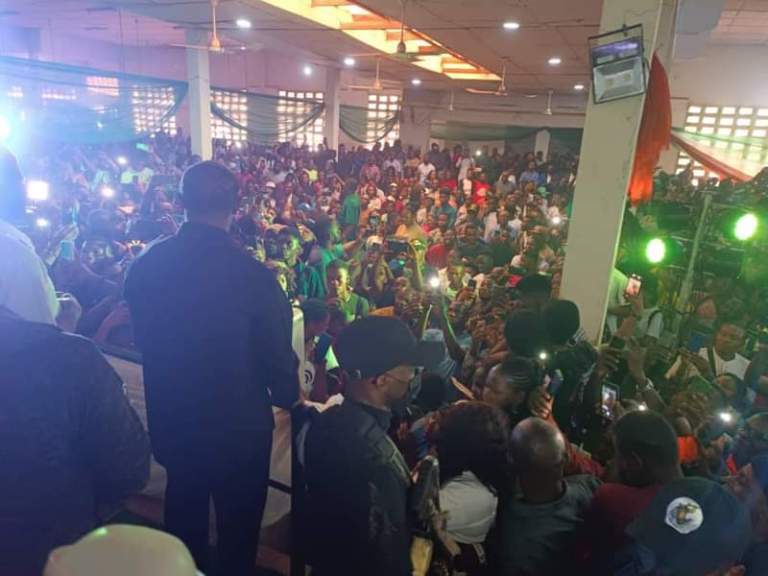 Peter Obi, the presidential candidate of the Labour Party (LP), has advised Nigerians not to hand the country over to a "sick person".
Obi said this on Thursday during an interaction with students and stakeholders at the University of Nigeria, Nsukka (UNN) Business School in Enugu, ahead of his presidential campaign in the state.
He also criticised candidates who have been absent from presidential debates, adding that character and competence should be used evaluate whoever will be voted as president.
This country is sick and should not be handed over to a sick person. I am not saying that anyone is sick. We have been here for over two hours; we don't want people who can't stand for 30 minutes," Obi said.
"In the United States, during election, they go for debates. Somebody once asked Barack Obama questions that are personal and he answered. But here in Nigeria, somebody wants to contest election, we don't know his real age; we don't know his name; we don't know the schools he attended. Nobody knows his real identity and he is pushing to lead everybody.
My name is Peter Obi. I can say I went to CKC, went to University of Nigeria, Nsukka. Both the VC today, the DVC today, these are my school mates. We came into university the same year and left the same year.
The people I went to school [with], I can see them here today — my seniors and my juniors. How come we now have people who do not have classmates? This is very important.
"If you said you will fight corruption, let's go to the road you have passed and see what is remaining there after you left. This year's election must be based on competence as it requires physical and mental energy, not a retirement job."
Obi's comment comes amid concerns over the health status of Bola Tinubu and Atiku Abubakar, presidential candidates of the All Progressives Congress (APC) and Peoples Democratic Party (PDP), respectively.
Abubakar and Tinubu are in their seventies — the official age of retirement according to Nigeria's Public Service Rule is 60 years — and Obi is 61 years old.