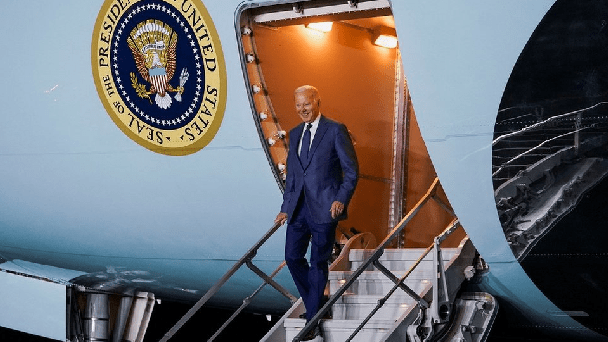 Four suspected pipe bombs were found in a cemetery in Northern Ireland yesterday just hours before President Biden touched down in Belfast.
Police officers recovered the devices from Derry and made them safe before taking them away for further forensic examination.
The discovery, described by police as a "sinister and worrying development", came as the US President was greeted by Rishi Sunak after he arrived on Air Force One.
President Biden, whose visit is to mark the 25th anniversary of the Good Friday Agreement, said earlier yesterday that the main purpose of his trip was to "keep the peace, that's the main thing".
There has been a £7million security clampdown for President Biden's day-long visit as part of celebrations for the anniversary of the historic 1998 peace deal.
An extra 300 officers have been drafted in from across the UK and a US security detail flew into Belfast last week as part of what is believed to be the biggest security operation in Belfast since the G8 summit there in 2013.
It comes as masked protesters threw petrol bombs at a police vehicle in the Creggan area of Derry on Monday.
PSNI Assistant Chief Constable Bobby Singleton said the discovery of the pipe bombs was a "sinister and worrying development".
He said: "The actions of those responsible are reprehensible and show a complete disregard and utter contempt for the community.
"These suspected pipe bombs were left in a cemetery, a place where people lay loved ones to rest and visit to pay their respects. That is absolutely shameful."
Mr Biden and Mr Sunak will hold one-on-one talks before the US President gives an address at Ulster University.