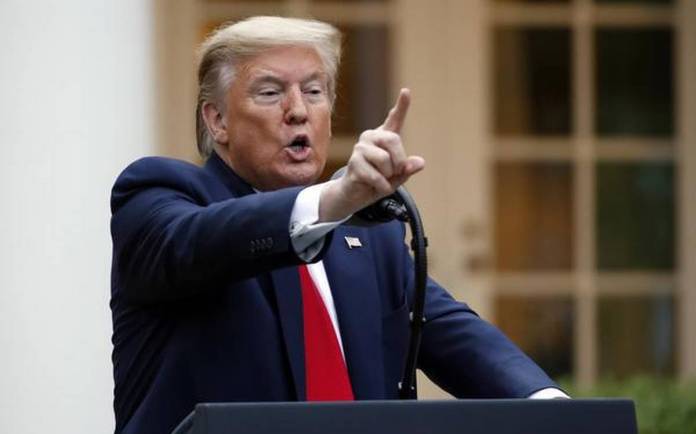 Donald Trump on Saturday called on his supporters to protest amid reports he could be arrested next week over hush money payments he allegedly paid to porn star Stormy Daniels before the 2016 election.
In a post on his Truth Social site, the former president called the Manhattan District Attorney's Office "corrupt" as a grand jury prepared to decide whether he should be indicted and face charges over the allegations."Leading Republican candidate & former President of the United States of America will be arrested on Tuesday of next week. Protest, take our nation back!" he wrote in capital letters.
Mr Trump referred to "illegal leaks from a corrupt & highly political Manhattan district attorneys office.It came after NBC, AP and other US media reported that law enforcement was preparing for Mr Trump to be indicted as "early as next week" in connection with purported payments to Stormy Daniels, whose real name is Stephanie Clifford, and other women who alleged sexual encounters with him.
Police sources told the networks that they were preparing for potential rallies outside of the Manhattan courthouse by Trump supporters.There has been no public announcement of any timeframe for the Manhattan grand jury's secret work, including any potential vote on whether to indict the ex-president.If he is indicted, it would make Mr Trump the first former president ever to face criminal charges.
The grand jury has been hearing from witnesses, including Michael Cohen, Mr Trump's lawyer and longtime fixer, who testified last week that he orchestrated payments in 2016 to two women to silence them about sexual encounters they said they had with the Florida-based businessman a decade earlier.
Mr Cohen has said that at his former client's direction, he arranged payments totaling $280,000 to Daniels and Playboy model Karen McDougal.Mr Cohen has said that his former client ordered him to pay the hush money and that it was for the "principal purpose" of buying their silence and thereby "influencing" the 2016 presidential election.A $150,000 payment to Ms McDougal was made by the then-publisher of the supermarket tabloid National Enquirer, which kept her story from coming to light.
Mr Trump was also invited to testify, which legal experts said indicated an indictment was close Manhattan District Attorney Alvin Bragg's office has apparently been examining whether any state laws were broken in connection with the payments or the way Mr Trump's company compensated Mr Cohen for his work to keep the women's allegations quiet.
He could be indicted on two charges; the first for falsifying business records, which is a misdemeanour under New York law unless prosecutors prove they were falsified to conceal another crime, which would make it a felony. The other could be a violation of state election law if they could find that the intention of the alleged payoff was to benefit Mr Trump's political campaign.Experts said both could be difficult to prove.
Mr Trump, 76, denies the encounters occurred, says he did nothing wrong and has cast the investigation as a "witch hunt" by a Democratic prosecutor bent on sabotaging the Republican's 2024 presidential campaign.Mr Cohen pleaded guilty, served prison time and was disbarred. Federal prosecutors never charged Mr Trump with any crime.Mr Trump's attorney, Joe Tacopina, told NBC News that the former president will follow normal procedures if it gets to the point of having to surrender to authorities from the District Attorney's office.
In a letter sent to the New York City's Department of Investigation commissioner last Friday, Mr Tacopina accused Attorney General Bragg of conducting a "politically motivated investigation."The prosecutors "weaponized" their office, he wrote, "scouring every aspect of President Trump's personal life and business affairs, going back decades, in the hopes of finding some legal basis – however far-fetched, novel or convoluted – to prosecute him."